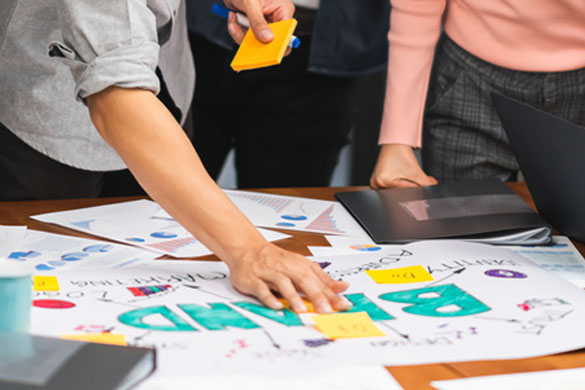 Some rules are made to be broken.
But graphic design is an art that is anchored in the appropriate use of typography, composition, color, and images. Only after you have mastered some basics can you tease out variants or challenge the status quo.
Want some quick tips to add beauty to your page? Here are some design "dos" and "don'ts" from four world-renowned graphic artists.
DON'T limit yourself to just a handful of fonts
Many designers champion the theory that you need only 12 strong typefaces.
In the past, commercial options were limited, but now gorgeous alternatives hit the market daily! Build a catalog you favor, but keep adding to it, and never stop searching for perfection.
DO reward strong body typefaces with a long-term commitment
When you find a classy, confident body text, stick with it. These fonts create stability and design anchor points to build from. Commit to the best, and don't waste time flirting with others.

DO choose colors for a reason
Everyone has favorite colors, but your design elements should reflect the brand and its personality – not your own. Pick colors with purpose, not just because you like them.
DON'T be afraid to be bold with your color choices
Bold color choices communicate power and confidence. Bold colors aren't just neon but include anything unexpected (like combinations of avocado green with bright orange or deep brown with magenta).
DO check that all images have an effective 300ppi resolution
This creates sharp designs that won't get distorted when resized. And never enlarge a 300ppi image beyond 100 percent within your layout.
DON'T import images with too high a resolution
If 300ppi is the industry standard, won't 600ppi look twice as nice? Nope. A larger resolution will enlarge your file size and slow down prepress processing. Larger resolutions can also cause an uneven gradation of tone.
DO always apply some sharpening to digital images
Many photos shot with a digital camera will appear slightly blurred. Use Unsharp Mask or Smart Sharpen tools to bring a crisp finish to your image.
DON'T get sharp-happy
Oversharpened images look worse than "straight from the camera" shots, so take it easy. And remember to complete all other image adjustments before you apply sharpening. Sharpening should be your last imaging step before importing a photo into your layout.
These rules serve as a guide, but creative concepts are all yours. Keep things simple, clean, and uncluttered, and let the design speak for itself.